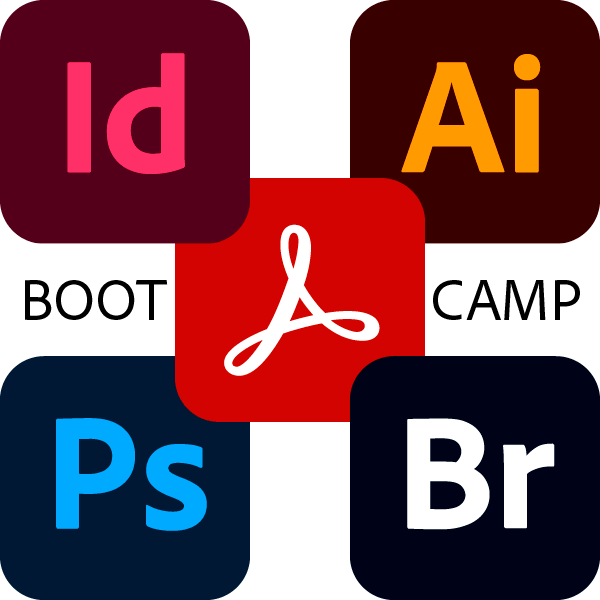 2 days. Deep-Dive Master series. You will learn in this advanced class about the interoperability and productivity possible between Adobe InDesign, Illustrator, Photoshop, and Acrobat DC.
Working hands-on, you'll get answers to all your questions about Adobe workflow for print publishing. Topics include:
Adobe Bridge 2023: tips and tricks for organizing and using digital assets
Setting up synchronized color management and swatches across applications
Bridge collections, review mode, contact sheets, Export panel, and Workflow panel
Bridge plus Adobe Camera RAW plus Photoshop to workflow stable color
Setting up Workflow panel features of Adobe Bridge 2023
Adding metadata to your digital files; making and reviewing collections of files
Photoshop Adjustment panel, Properties panel, content-aware scaling
Layer masking techniques that work well in InDesign
Figuring correct resolution in Photoshop; creating layer comps
Using Smart Guides, Smart Objects, and non-destructive Smart Filters
Vibrance adjustment; color range mask; on-image controls
Adobe Camera RAW filter and Neural filters
Auto Blend and Auto Align speed up collage techniques
The Quick Selection tool and other new ways to select subject
Preparation of Photoshop files for placing into InDesign
Illustrator Blob tool, multiple artboards, gradient transparency
Pen tool drawing tips and application preferences
On-object editing, align anchors, improved 3D effects, intertwine, etc.
Tracing scanned artwork in Illustrator with Image Trace and Live Paint
Exploring color with LiveColor and color.adobe.com
Preparation of Illustrator files for placing into InDesign
Illustrator 2023: Highlights of favorite useful/new features
InDesign 2023 has improved Links Panel, Live Preflighting, and Smart Guides
Styles, style spanning, style mapping, scripts, GREP searches and auto-styles
Enhanced text handling features, view rotation, and other new features
Export to PDF for web, digital and commercial printing
Export to EPUB on tablet devices
Creative Cloud for sharing files in collaboration and review
Acrobat DC: How to update a design while keeping form fields
Production tools: separations preview, fix-ups, and BW conversion
Prerequisites
Suggested Follow Ups:

Reserve today! Click for our Onsite Custom Training Request form.